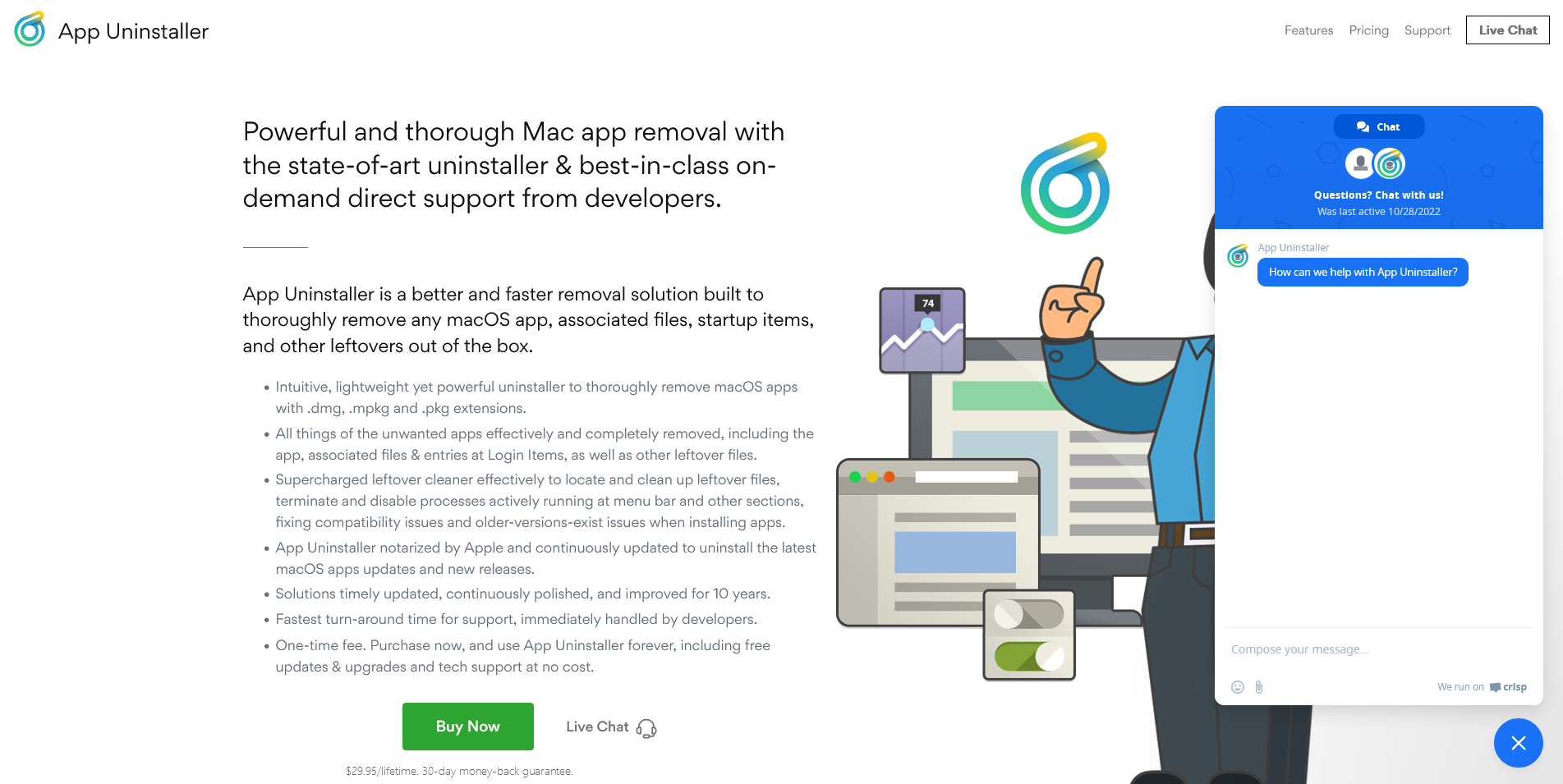 App Uninstaller is the go-to Mac app uninstaller that every Mac user should have to keep your Mac computer in good shape. The release of App Uninstaller 2023 will make it the best app removal utility to thoroughly remove apps in just a few clicks. The newer version includes app removal capability for nearly 1,000 new apps. The following apps are some of the included apps in this new release.
Endurance
Endurance is the latest from the developers of PhoneExpander, software that automatically turns on your MacBook when it's low on power and tweaks some of the features to save power. According to the software, Endurance can extend the battery life of your MacBook by up to 20 percent. Endurance clears all programs that are not currently being operated. For dual-screen users, it's possible to code on screen A and have a browser on screen B to read a reference document, but while eating hot pot and singing, the browser on the second screen is turned off by Endurance. Another thing is that Slowing Down Processer works wonders for Power saving has a miraculous effect, the program does not turn it on by default, it is recommended that the first thing you do after opening is to turn on this option. Endurance has three startup modes: auto-on, ask-on, and manual-on. By default, it turns on when the power is below a certain value, and if you have very high demands on battery life, you can choose to turn it on automatically when it is below 90%.

Stacks
Stacks is a plugin for RapidWeaver that allows you to build pages that pass text into the theme dimension, even if the theme has variable width. Using the flexible framework, you can build fluid columns, flexible rows and image slices. You can build columns within columns within rows within columns. Or group a bunch of objects into a box. Stacks is a plugin for RapidWeaver, a new way to create pages in RapidWeaver. Designed to combine drag-and-drop simplicity with the power of fluid layout.
Viper FTP
Viper FTP is a very useful FTP client, easy to use, small capacity, will not take up too much resources of your Mac system, simple operation to let you get started quickly, allowing users to locate files by typing their names. Viper FTP is a friendly and reliable FTP client. Also a handy and powerful file manager with a great user interface that makes it easy to use. Useful for local and remote file management (FTP, SFTP, WebDav, Amazon S3 and YouTube uploads). All hidden files and system files are visible, just type the file name to locate the file. Viper FTP allows users to share items via mail applications, make file-specific HTTP URLs and quickly compare files and folders. Remote files and servers are searched very quickly. There are also local and remote previews of images, videos, music and files.
OnyX
OnyX can help you review the boot disk information and file system structure information, and can run a lot of system maintenance subroutines, such as configuration Finder, Dock, Dashboard, Exposé, Safari, Login window in some hidden functions. Onyx is a versatile utility that you can use to verify the structure of the boot disk and its system files, run other maintenance and cleanup tasks, configure parameters in Finder, Dock, Safari and certain Apple applications to remove caches, delete certain problematic folders and files, rebuild various databases and indexes, and much more.
Scrutiny
Scrutiny is a website SEO tool that automatically detects bad links, HTML validation, DescriptionDescription, TitleTitle and other SEO information of the target website, and has powerful report export function.
ProFind
ProFind is a useful file search software with powerful features and excellent performance for advanced file search for macOS. It also supports natural language queries, application launching, hidden location search, script writing and more. In addition, it can search in invisible folders and packages, and search any disk type. ProFind is an advanced file precision search application. With powerful features and excellent performance, it provides advanced file search tools for macOS. And it supports natural language query, application launching, hidden location search, script writing and more. Use kernel-based search (searchfs) when available. Use metadata indexing (used by Spotlight) when available to improve performance. Autocomplete for application names. Large icon view of one or two search results. With an elegant user interface, ProFind combines the power of the different search features of macOS to ensure that you find all the files you are looking for. It has been carefully tuned to improve performance and responsiveness.
Middle
Middle is a trackpad assistance and enhancement application for Mac computers that makes it simple to add middle keys to your trackpad or Apple mouse. Middle supports operating the trackpad by selecting from the following gestures: click with three fingers (touchpad or Magic Mouse); three-finger tap (trackpad or Magic Mouse); Force Touch with one finger on a Force Touch-compatible trackpad; and click with one finger on the center of the Magic Mouse.
MacX Video Converter Pro
MacX DVD Video Converter Pro is a good video converter that supports converting almost all video formats to each other. MacX DVD Video Converter Pro supports converting almost all video formats to each other. Such as MKV, M2TS, MP4, MOV, WMV, AVI, FLV, etc. It supports iPad, iPhone, Android, iMovie, QT, etc. It can convert files according to the needs of reading devices. In addition, it can download streaming video files, including YouTube, Vimeo, Myspace, etc. With more than 420 built-in video and audio codecs and advanced HD video decoding engine, MacX Video Converter Pro supports converting various HD (such as MKV, M2TS, AVCHD, H.264/MPEG-4 AVC, etc.) and SD (AVI, MPEG, MP4, H.264, MOV, FLV, F4V, RM, RMVB, WebM, Google TV, etc.) video formats. The converted videos can be perfectly supported by Mac computers, iMovie, iTunes, iPhone 4, iPhone 3GS, iPad/iPad 2, iPod touch 4, iPod classic, iPod nano, Apple TV, PSP and other mobile devices.
MacX DVD Ripper Pro
MacX DVD Ripper Pro is an all-in-one DVD format converter for macOS that helps you rip DVD discs to the desired file format and allows you to preview, edit, crop, trim and expand videos before encoding.
From the main window of MacX DVD Ripper Pro, you can instantly load DVD discs, DVD folders or images, view their contents and select the chapters that need to be flipped.
It helps you backup DVD contents, transfer videos to mobile devices and remove copy protection
Moreover, thanks to the output profile slideshow, you can view a list containing all available encoding profiles and choose the one that suits your device.
Besides, you can use MacX DVD Ripper Pro to convert videos to iDVD, Final Cut Pro and iMovie compatible formats for a smoother import process.
With the help of MacX DVD Ripper Pro, you can also create backups for discs and encode videos to formats suitable for your iOS, Android or Window devices, video sharing sites or video/audio formats of your choice.
Customize any predefined encoding profile to suit your needs
Most importantly, you can customize each profile and change the audio and video codecs, frame rate, resolution, bit rate and sample rate values as well as aspect ratio and the number of audio channels.
You can preview selected chapters directly from the main window of MacX DVD Ripper Pro, take snapshots and determine how many CPU cores to use for ripping DVDs. editing slideshows brings a range of new possibilities for video editing. Thus, you can adjust the volume, add and embed built-in or external subtitles, trim chapters, cut and expand the selection and resize the video. You can only apply adjustments to the currently selected video or to all the selected chapters in the queue list. Schedule it off Mac and transfer MP4 files to iTunes library automatically
The advantage of MacX DVD Ripper Pro is that you can leave your Mac unattended and configure it to shut down automatically when the conversion process is finished.
Besides, MacX DVD Ripper Pro can automatically add MP4 files to iTunes library after conversion and allows you to set up video and snapshot folders manually. All things considered, MacX DVD Ripper Pro application is the right application for your Mac to burn any DVD to a wide variety of output video formats easily and quickly if you want to do so effortlessly.
Find Any File
Find Any File lets you search for and find any of your files on the local disc including the name of the local disc, date of creation or modification, size or type and creator code, etc. Find Any File is a useful file search enhancement tool for Mac that provides more powerful search functions than the search function that comes with the Mac system, such as hidden file search, direct full-screen search, file size, time, etc. Use this software because it supports NTFS partition search, because the Mac does not support searching NTFS partitions by default, so it is very inconvenient when searching files on removable drives, and Find Any File can do that. And the search speed is very fast, very good. There is a new hierarchical view of found items, making it easier to browse 100 items. Can be run as root user to find any file on your hard drive, even those hidden common files. Queries can be saved and run immediately. Fast, it doesn't go into a pre-built database, but selects the search directly so you can find any file.
The upgrade process of App Uninstaller 2023 is simple and automated. If you're using a previous version, you can simply click the update button in the setting to proceed. You can also download the latest version on https://appuninstaller.com, and then use your perpetual license code to activate it.