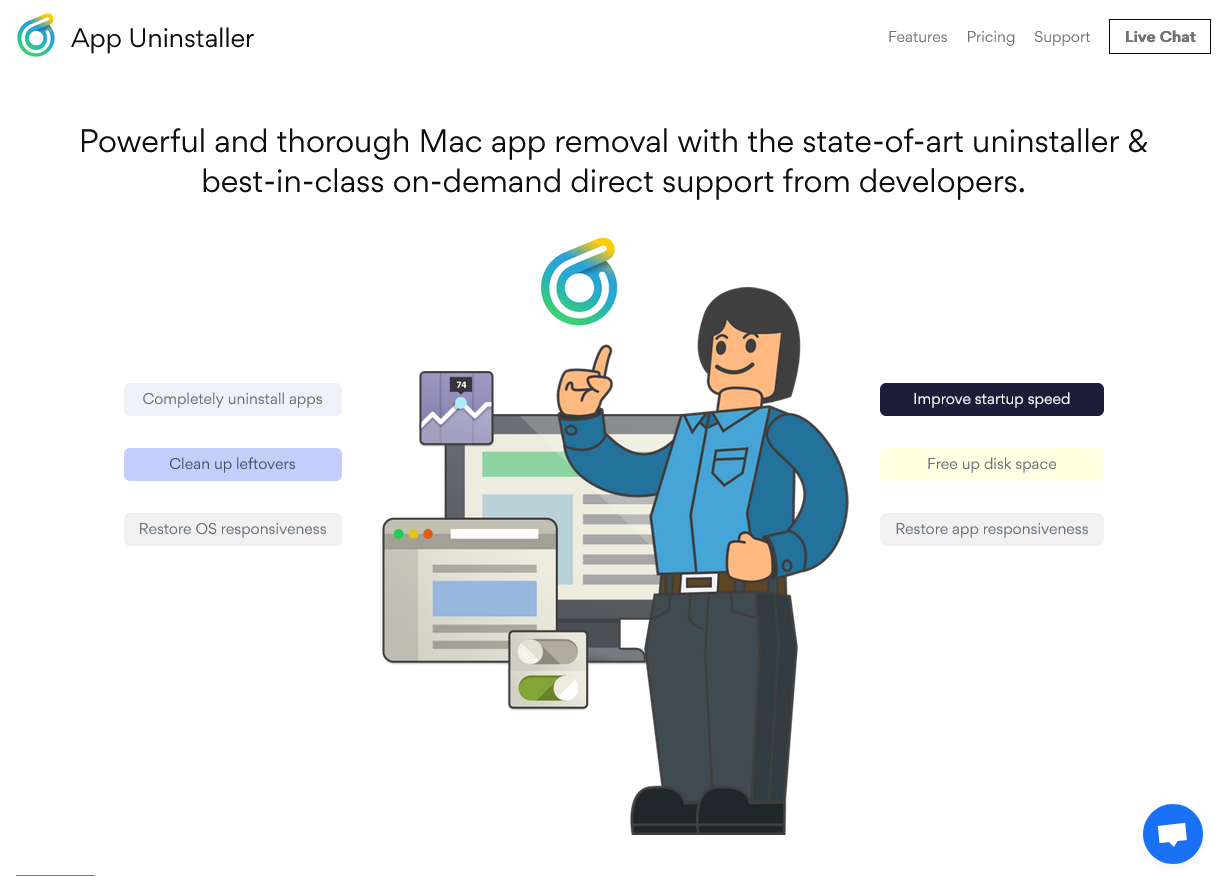 Is App Uninstaller is legit? AppUninstaller.com's App Uninstaller is legit and powerful tool that is essential and a must-have to keep your Mac in good shape, especially you're using the older specifications. Based on our hand-on testing, App Uninstaller is the best Mac uninstaller in the market, and it is one of the best pricing models with only one-time cost for lifetime use and lifetime support.

In this review post, we've tested, evaluated and reviewed the apps below, by using the latest version of App Uninstaller.
Testing #1: uninstall TG Pro
TG Pro (Temperature Gauge Pro) is a professional software that displays the real-time temperature of your Mac, which can display the temperature of each hardware in the system menu bar, independent menu bar, etc., and can also customize the fan speed. TG Pro (Temperature Gauge Pro) can easily display the current overall temperature of your computer, and tell you in detail the temperature and operation of all hardware to facilitate better maintenance of your computer. Check your MAC by viewing the current recorded maximum temperature for each sensor. Choose from Celsius or Fahrenheit. Adjust the speed of the fan, your MAC can run on a manually controlled fan cooler.
Testing #2: uninstall Workspaces
Workspaces is an excellent workspace quick switching tool for Mac, helping you organize your work more efficiently on your Mac, quickly creating and sharing presentations, text documents, and more.
Workspaces remembers all your favorite project resources (files, apps, important emails, folders, website addresses) and allows them to be opened instantly, while it also supports cloud saving, so next time, just click a button to start working, great to use! You can switch projects without distractions. It will increase your productivity and eliminate another reason to procrastinate. We believe this is an app that everyone will love.
Testing #3: uninstall SoundSource
SounceSource is an audio control software on Mac that lets you adjust input, output, and sound effects devices and volume settings directly from the menu bar. Enable soft playback of the input device to the output you want, so you can hear sound coming from any microphone or other source.
SoundSource is an easy-to-use tool to quickly switch between Mac audio input and output sources. A menu bar-based utility that gives you instant access to input, output, and system devices as well as volume settings. Helps you control the volume of each audio source separately through the menu bar. As an added benefit, it also gives you a quick way to access the full sound preferences pane.
In addition, you will be able to quickly switch from one input or output device to another, which makes it an indispensable tool for DJs and other music professionals. You may also like to send your Mac system sound to auxiliary hardware to steer clear of your way.
Testing #4: uninstall Mp3tag
MP3tag is a powerful and easy-to-use tool for editing the metadata of audio files. Mp3tag is a powerful and easy-to-use tool for editing the metadata of audio files. Musicians, DJs, podcasters, and audio enthusiasts use it for many different aspects of working with audio files. It supports batch editing tags of multiple files at once, covering everything from MP3, MP4 and M4V (yes, that's video!). to FLAC, OGG, OPUS, AIF, DSF, MPC, and WAV multiple audio formats. In addition, it supports online database lookups from Discogs and MusicBrainz, making it possible to collect appropriate tags and download covers from your music library. It provides renaming files based on tag information, replacing characters or words in tag and file names, importing tag information, and resizing and formatting embedded covers.
Testing #5: uninstall Audio Hijack Pro
Audio Hijack Pro is a powerful Mac recording software that not only takes sound from the microphone of your Mac computer, but also records the sound emitted by the app. Audio Hijack Pro is a Mac audio recording software that lets you record audio streams from the Internet, import recorded audio sounds, or grab the sound of a DVD-audio disc. The recorded content can be saved in Apple's AAC or ALAC format, or MP3, AIFF format, and can be directly burned to CD, supporting VST/AU plug-in effects. Compared with general recording software, Audio Hijack Pro can mix multiple audio sources while recording, achieving better final results and reducing post-editing.
Testing #6: uninstall Notebooks
Notebooks is a Mac document management, text writing and schedule memo tool, integrated document, schedule task management, document file management three functions, its Chinese file writing support plain text, HTML text and Markdown text, support unified management of common document files, such as text, PDF, web pages, MS Office documents, etc., a very practical tool! Notebooks allows you to create as many books as possible to write, store and build the details of your life, and it will soon become the sole repository for all your journals, ideas, notes, drafts, stories and diaries, but also for your projects, task lists, documents, files and everything else you want to keep at your fingertips. Use notebooks to create carefully formatted documents with styles and embedded photos, or quickly write plain text annotations. Feel free to switch between these formats, and if you want to use Markdown, Notebooks knows how to handle it. It's the perfect, distracting writing environment. Notebooks stores and displays almost any type of document: plain and formatted text, PDFs, web pages, MS Office documents, photos, videos, music, and more. Everything you want to organize can go directly into the notebook. Notebooks also save your task list and allow you to check off your to-do list when you're done. Divide items into nested sub-projects, which makes them easier to work with and cross-reference to your reference library, which is of course in the notebook. Laptops can share files with mobile versions of laptops on iPads and iPhones, so you can work with documents conveniently on your desktop, as well as on your iPad, iPhone or iPod touch. Syncing between devices currently supports WebDAV servers. Laptops store all documents as regular files on your computer's hard drive, so you always have access to them through Finder to open and edit other applications. So whether you need to write something down or want something, you need to have your laptop on your Mac.
AppUninstaller.com's App Uninstaller is the essential tool built for complete app removal
AppUninstaller.com's App Uninstaller performs as a solid and all-around tool to thoroughly get rid of unwanted apps without any hassle, completely deleting the associated files, freeing up space and improving overall speed.